It's that time again! The spooky, spectral time of ghosts and demons and all sorts of frightening beasts from the Beyond…it's October!
It could be anything. An ancient monster that just won't die. An alien infestation consuming your body. The spectre of the night encased in silent, human form. Whatever you fear, it could be anything this Halloween!
This October, The Movie Maestro brings to you 13 nights of terror as the shadows of eons past return to wreak havoc on humankind! From October 19th to the Festival of Samhain on the 31st, you will be witness to ?? films of increasing dread as the forces of pure evil from days gone by lunge for the kill!
Unlike the American Spirit Marathon, the October/Halloween event will be slightly changing with each iteration, presenting a different theme each year. This year, in light of the massive success of the new adaptation of Stephen King's It, the theme will be Ancient Evil. Everything from alien creatures millions of years old to the Deadites of the Middle Ages, from eldritch monsters beyond our reality to the pure, ageless evil behind the eyes of Michael Myers, all of it will be coming for you!
The Picks:
Salem's Lot

We begin the marathon with a tale from the Master of Macabre's past: Stephen King's Salem's Lot. Released in 1979 as a miniseries, like the better-known It, Salem's Lot presents us with an interesting take on the vampire mythos. Taking place in King's old standby state of Maine, the small town of Jerusalem's Lot becomes the modern-day breeding ground for a new and vicious group of blood-suckers, led by the monstrous Kurt Barlow and his sinister assistant, the eloquent Richard Straker . This film is pulling double-duty within our marathon due to its director–the late Tobe Hooper, who sadly passed away earlier this year. Still early in his career, Hooper relishes the chance to create a foreboding atmosphere, infusing Salem's Lot with an eeriness that persists to this day. While there is a remake with the always perfect Rutger Hauer as Barlow, I'm sticking with the original out of respect for Hooper and the grisly Nosferatu-like visage of this film's king vampire.
The Evil Dead

At once Sam Raimi's debut and magnum opus of horror, Evil Dead is still enduring in several forms; comics, a Showtime TV series, a remake, and even a musical have been released alongside the two more successful sequels, and Raimi himself has become quite an eccentric and eclectic filmmaker in the decades since. For this marathon, we'll go back to the beginning, when the demons were first unleashed and the evil in the forest was no laughing matter. Ash, played as always by the immortal Bruce Campbell, and his friends arrive at a secluded cabin in the woods for a carefree weekend away from civilization. Instead, they find a scene of slaughter, and the Necronomicon, a book of demonic spells, wrapped in flesh and inked in blood, which releases a horde of Kandarian spirits, determined to possess the kids through rape and mutilation. Phew, that was a brutal mouthful. And so is this movie, to this very day.
The Cabin in the Woods

While we're on the subject of cabins and mutilation, let's keep this theme rolling with Drew Goddard's excellent deconstruction of classic horror movie tropes, The Cabin in the Woods. Co-written with Joss Whedon, Cabin explores another group of kids' run-in with supernatural torment deep in the forest, but with a more funny twist…and a strange little Office Space-style conspiracy running in the background. Did I say Office Space? It's more like Office Space by way of H.P. Lovecraft, we'll just say that. I'll also say that this is how Cabin ends up on my Ancient Evil marathon, but to say more might truly spoil the whole thing, so just pop it in and enjoy a stoner, a jock, a virgin, a slut, and whatever that other guy was stumble through a nightmare scenario of movie monsters, all controlled by two sweaty office workers who complain about their wives' hormones.
Nosferatu the Vampyre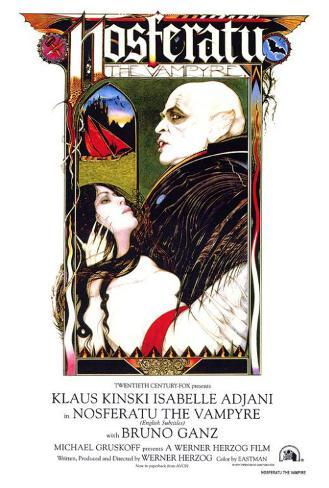 From pop culture exploitation to art-house cinema we go, with this, probably the most haunting rendition of Bram Stoker's tale of the ultimate vampire, Dracula. King of the Undead and cursed by God Himself, Count Dracula feeds on the blood of the living to sustain his damned existence, bringing his horror to the shores of England when he sets his sights on the lovely Mina Harker. While any of the myriad versions of Dracula will do here, such as the classic 1931 production starring Bela Lugosi, one of the Hammer films starring Christopher Lee, or the Francis Ford Coppola remake with Gary Oldman, I have decided to spice things up a bit with Werner Herzog's homage remake of Nosferatu. Not having to worry about copyright enfringement anymore, Herzog has returned much of the original Dracula characters to the fray, but with his hypnotic direction at the helm, Nosferatu the Vampyre makes for an interesting detour in our marathon.
The Mummy (1997)

Sometimes, you just need some good, fun escapism. After the trance-like Nosferatu, why not take a moment to recuperate with Brendan Frasier as he battles it out with Imhotep, the rotting star of 1997's The Mummy? 3000 years ago, in the empire of Egypt, Imhotep was the high priest of the dead, the chief holy power in the realm and second only to the Pharoah himself–too bad he and his lady love decided to murder him. So begins an epic, Indiana Jones-like odyssey with Frasier's Rick O'Connell fighting alongside Rachel Weisz and others to prevent the ancient blasphemer from unleashing the power to destroy the world. While this installment is much heavier on action and adventure, it still has quite a few good scares for the more timid among us. And, let's face it, it is miles ahead of the new Tom Cruise-starring version, so why not relive old times, when all was right with the world?
The Shining

Time for a break from the ancient evil! Since Stephen King stories seem to be on a roll lately, let's go back to one of the earliest hits from his bookshelf, this one by one of the greatest filmmakers of them all, Stanley Kubrick. While the menace isn't quite ancient, it's still pretty old–the Overlook Hotel, imbued with evil by the spirits of the dead within its walls, be they massacred Indians or axe-murdered twins. Ugh, those twins. Jack Torrence, played both frighteningly and hilariously by Jack Nicholson, is soon under the spell of these ghastly ghosts, and your only hope is….Shelly Duvall and a little kid? Well, take heart, because Shelly is tougher than she looks, and that kid has a little ability that can make or break your chances for survival. So go ahead. Kick back, relax, turn the thermostat way down, and enjoy a creepy night in at the Overlook. Now say it with me…"HEEEEEERE'S JOHNNY!!!"
The Fog

Nope! Break's not over yet! John Carpenter is a filmmaker you'll be seeing pop up on my radar a lot, considering, you know, just how good he is. Any genre he works in, be it sci-fi, romance, action, and yes, horror, he just nails with an offbeat sense of coolness, like he can do no wrong. This time, we'll be taking a look at one of his more dreamlike entries, a film about spooky tales on the water in the midst of the night…The Fog. The Californian town of Antonio Bay is about to celebrate its 100th anniversary when paranormal activity begins to occur at a frightening rate. In the midst of the chaos comes a massive fogbank, bearing down on the town. Within are the restless spirits of a long-dead clipper ship, ready to take six lives in retaliation for a buried secret in the town's sordid history. Did I mention this movie has Jamie Lee Curtis AND Adrienne Barbeau? For pure, high-seas ghostly terror, sit down with the original Fog.
It

You knew it was gonna end up on the list somewhere. Now the magnum opus of Stephen King flicks, Andy Muscietti's adaptation of It has, in many eyes, supplanted the old miniseries, taking the number one spot in lists of evil, scary clowns. But It isn't just a clown; Pennywise may be the physical face of this extraterrestrial terror, but It's true form may just be too terrifying for we puny humans to behold. Crashing to Earth billions of years ago, It has finally awakened to feast on its favorite meals: fear and the flesh of children. It is the Eater of Worlds; the Sum-Total of Every Nightmare Ever Had; and now It will face its greatest foes: The Losers Club, a group of youngsters with foul mouths and a sense of unity that may be their only weapon to combat this Eldritch beast. While you will have to go out to your local theater this year to see it, if you haven't yet, It is one hell of a horror film that you will not be disappointed in.
TRIPLE FEATURE: John Carpenter's Apocalypse Trilogy

Ready for a long evening? Try John Carpenter's thematic Apocalypse Trilogy, featuring three films that portray the beginning of the end of the world. Start off with the director's bonafide classic The Thing, starring Kurt Russell as the manly MacReady as he and the other crewmen of a U.S. Antarctica base face off against an alien creature which can perfectly mimic any lifeform it reaches…even one of them. Continue with Prince of Darkness, a bizarre yet incredibly fun combination of time travel and demonic possession that pits college students and Donald Pleasance as a crusty old preacher against the literal forces of evil: Satan and the Anti-God. Close out the triple feature with In the Mouth of Madness, in which Sam Neill plays John Trent, a private investigator on the trail of missing horror novelist Sutter Cane, who's new book may spell doom for the human race.
Wes Craven's New Nightmare

Made as an afterthought coda to the main six films of the Nightmare on Elm Street series, Wes Craven's New Nightmare is actually probably the most creative of all those films. Delving heavily into metatextual territory, New Nightmare takes place in our world, starring the real-life actors who made the Nightmare series playing themselves. Heather Langenkamp is now a mother trying to put her horror movie past behind her, but when her young son begins having vivid nightmares at about the same time her husband begins work on a new Nightmare film. Soon, Freddy Krueger begins appearing in the real world–but it isn't Freddy Krueger. As Craven himself cryptically explains, long ago a terrible demon was locked away in a story…and it will take a new one to contain him again. Featuring hellish imagery and some of the best dream-scares of the whole series, New Nightmare is a fine addition to this marathon.
The Texas Chainsaw Massacre (1974)

Taking another detour on our list of ancient evil films, we arrive in the twisted plains of deep Texas, where the meat is much more than just tainted. A horror hallmark, The Texas Chainsaw Massacre should be on everybody's Halloween viewing lists, even more so after the unfortunate death of Tobe Hooper. A group of teens on a pleasure trip is about to find out the Texas meaning of good eats when they encounter an unsettling hitchhiker and nasty old gas station barbecue. After some choice scares, continue on into the ominous landscape, unaware of the family of psychopaths ready to butcher them all with hammers, straight-razors, and gas-powered chainsaws like prime-angus beef. An uncompromising, gruesome, and at times amusing descent into hellish heat and the stench of the slaughter, TCM provides full-bore slasher scares with none of the camp, and even less of the blood. What? You want blood? Don't worry; your imagination will fill in the blanks.
It Follows

Not quite a detour, It Follows occupies an interesting spot on this list, as the main monster of this film's origin is never revealed. Nonetheless, it is an unsettling thing to experience, and why not include it on the list for that very reason? Jay is your typical teenage girl who has just experienced her first sexual encounter. Depending on the person, she may be receiving either a high-five or a stern stare, right? Who would have thought that she would instead be subjected to the fear of becoming prey when she finds herself relentlessly pursued by a supernatural entity that knows her every sin? Quickly becoming praised by critics, audiences, and horror buffs alike, this film won notoriety for its writer and director David Robert Mitchell, and has probably managed to do for sex what Jaws did for beaches. In other words, the Entity of It Follows has succeeded where Jason Voorhees, Freddy Krueger, and Michael Myers have failed.
DOUBLE FEATURE: Halloween / Halloween II


Finish off the marathon with a double feature night, containing the only films that should be watched on Halloween night: John Carpenter's seminal classic Halloween, and its direct continuation, Halloween II! Michael Myers himself may be just a 21-year-old psychopath, but the evil living behind his young eyes is as old as time itself…
And that's all folks! Once again, feel free to switch out some of these films for others or mix-and-match the order. The point is, this is your ultimate Halloween marathon, so you do it your way!