Directed by Roland Emmerich
Written by Dean Devlin and Roland Emmerich
Starring Will Smith, Jeff Goldblum, Bill Pullman, Mary McDonnell, Judd Hirsch, Robert Loggia, Randy Quaid, Margaret Colin, Vivica A. Fox
A bonefide 90s blockbuster, a certified pop culture phenomenon, and a patriotic mainstay of 4th of July movie marathons nationwide. Can you get anymore entertaining than Independence Day?
On July 2nd, communications systems worldwide are sent into chaos by a strange atmospheric interference, revealed to be gigantic spacecraft, piloted by a mysterious alien species. After attempts to communicate with the aliens go nowhere, David Levinson (Jeff Goldblum), an ex-scientist turned cable technician, discovers that the aliens are going to attack major points around the globe in less than a day. On July 3rd, the aliens all but obliterate New York, Los Angeles and Washington, as well as Paris, London, Houston and Moscow. The survivors set out in convoys towards Area 51, a strange government testing ground where the military has a captured alien spacecraft of their own. The survivors, led by the President of the United States (Bill Pullman), devise a plan to fight back against the enslaving aliens, and July 4th becomes the day humanity will fight for its freedom from extermination.
With ID4, Roland Emmerich and Dean Devlin established themselves as the big budget dream team of the 1990s. Taking in over $300 million in the box office and becoming as equally big a hit on video, ID4 is still fondly remembered by most moviegoers today. Sure, some critics still turn their noses to it, but by now, one has to admire the staying power this one has.
And this is directly attributed to Emmerich and Devlin, whose script balances any of the cheesier aspects of the alien invasion genre with disaster film tropes and surprisingly sharp drama. Devlin is on record as stating that, "you can have the greatest special effects shot in existence, but if you don't care for the characters, it won't matter at all." Luckily he was able to live by his words in this instance, because his characters are all as top-rate as possible in a film like this.
In his first post-Fresh Prince role, Will Smith swoops in as one of the three main protagonists, holding his own against Golblum and Pullman. Though Goldblum's character David is my favorite of the bunch, Smith's macho air captain Steven Hiller is riot to watch and laugh at. And that sense of fun only gets better once they both pair up for their final mission, cramped together in an alien ship, matching wit for gut-busting wit.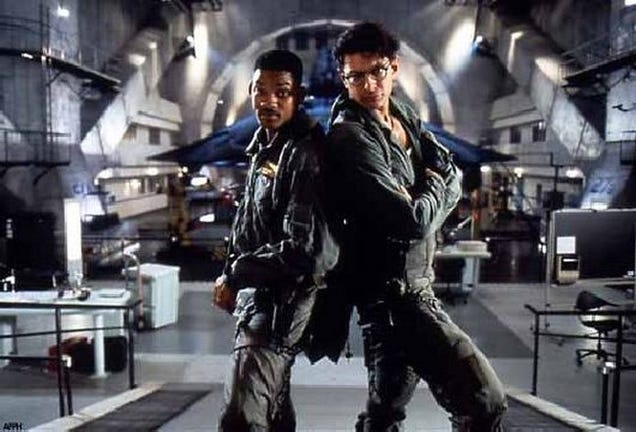 Pullman's character, President Whitmore, is a different beast: written to be a largely ineffective leader who is bullied around by his more ambitious Secretary of Defense (James Rebhorn), Pullman conveys enough of a heart to be genuinely likable and sympathetic, even if as an Executive he makes the worst decisions ever.
Rounding out the ensemble cast are a collection of some of the finest character actors and topical stars of the time, including solid performances from Loggia and Colin. Randy Quaid, however, is the main scene stealer, followed by a pleasant surprise in Brent Spiner, who relishes getting out of his Data persona to play a hilariously-eccentric Area 51 scientist.
But the main draw, really, behind ID4 was the impressive array of visual and special effects on display. ID4 was made at an interesting time in the industry, in which Jurassic Park had just displayed what was possible with photo-realistic CGI. ID4 happily took advantage of the technology, present in the swarms of alien attackers and F/A-18s buzzing in and out of the frame. Emmerich, however, thankfully preserves a heavy in-camera miniature element, and this decision pays dividends. Many of the buildings and cities erupting in spectacular explosions are scale models and pyrotechnics, and they still are as breathtaking as they were back in the day. The White House's destruction even became an indelible cultural image, thanks to the saturation of the moment in the film's marketing. The visual effects earned an Academy Award in 1997.
ID4 is available in the home video market with two versions, the 145-minute theatrical version and the 155-minute Special Edition. The theatrical cut is already a well-put-together, narratively solid piece, so any added material in the Special Edition, even when fleshing out Quaid's role, feels somewhat redundant. It doesn't help that the sound mix in these scenes seems to be incomplete, and the excellent pacing of the first act is the most shattered by additions. I recommend the theatrical cut heartily.
All in all, ID4 is still a blast to watch. The humor is on-point without overbearing the natural drama, the special effects are still convincing, and the musical score by David Arnold has aged very well. I honestly can't find any fatal faults with the picture. If you're looking for a good War of the Worlds-style throwback that isn't a stretch for non-viewers of sci-fi in general, Independence Day is your ticket.