Directed by Kazuki Ōmori
Written by Kazuki Omori, Story by Shinichirô Kobayashi
Starring Kunihiko Mitamura, Yoshiko Tanaka, Masanobu Takashima, Kôji Takahashi, Tôru Minegishi, Megumi Odaka, Toshiyuki Nagashima, Ryûnosuke Kaneda, Manjot Beoi
When I first started watching Godzilla movies, I was about 9 years old. While I had seen bits and pieces of a few of the films here and there on television, I never really sat down for a true viewing until I read a Nickelodeon magazine article on the Big G in preparation for Roland Emmerich's 1998 film (I know, the horror). From there, I began to search high and low for every Godzilla movie on VHS I could get my hands on. I cannot tell you how many trips to K-Mart were had to find those things. In the summer of that year, I found my second Godzilla tape, and that turned out to be this little gem.
Following the events of Godzilla's 1984 raid on Tokyo, scientists collect genetic material from the monster's fallen scales. The samples are quickly stolen by Agent SSS-9 (Manjot Beoi), an assassin for the Middle Eastern country of Saradia. Dr. Shiragami (Kôji Takahashi) plans to use the cells to produce highly adaptable wheat crops for Saradia, but before he can, the samples are destroyed by American sabotage, killing his daughter in the process. Spending years studying the remaining cells, Shiragami combines Godzilla's genetic code with those of a rose and his own deceased daughter, resulting in Biollante, an eerie plant of titanic proportions. To make matters worse, a psychic woman (Megumi Odaka) detects Godzilla stirring from his volcanic prison. The military sends the flying Super-X2 to stop the beast from thrashing Japan, but eventually Godzilla engages the rapidly mutating Biollante in a fight to the death.
While The Return of Godzilla was a critical success, it's box office take was rather marginal compared to the more fruitful early Showa-period entries, and a sequel was put on the backburner. When director Kazuki Ōmori was handed the project in 1986, he opted for a unique approach to generating the story: he convinced Toho Pictures to hold a contest for fans to submit their own story and original monster for Godzilla to battle. From five finalists, one of whom would go on to become the story for the post-apocalyptic feature Gunhed, Ōmori chose the entry by dentist Shinichiro Kobayashi, concerning a scientist's quest to resurrect his deceased daughter by combining her genetic structure with first a plant, and then cells from Godzilla himself, resulting in the abominable hybrid creature Biollante.
Developing the story further, Ōmori was able to craft an interesting and thought-provoking sci-fi film, with themes concerning the practice of genetic engineering and man's often-times reckless misuse of it. The film begins immediately after TROG, with both the Japanese forces and mercenaries from American and Middle Eastern factions scavenging the remains of Tokyo for Godzilla cells. The desert country of Saradia, in particular, greatly desires the cells, for their chief engineer, Dr. Shiragami, believes he can crossbreed them with wheat plants to produce highly adaptive and regenerative crops that could turn Saradia into an oasis, no matter the effect on global power. From the start, GVB is a film brimming with geopolitical intrigue surrounding science of a questionable morality–much like the original Godzilla and its immediate predecessor.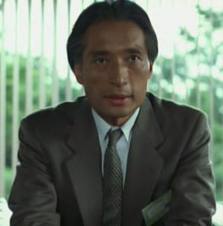 Shiragami inhabits a unique position among Godzilla movie scientists. He's not the typical nature-fearing voice of reason, however, nor is he a mad scientist, despite his status a Biollante's creator. While his Frankenstein-like actions are in keeping with the better parts of a horror setting, his motivation, to save the soul of his daughter, dramatically paint all of his debates with Kirishima (Kunihiko Mitamura) in a much more nuanced light. Takahashi keeps his performance reserved and subdued, appearing to hide a silent pain that feels incredibly genuine. Of all the Heisei films, I think Takahashi got the best performance of them all.
The aforementioned Kirishima, the younger, and yet more conservative, geneticist, is fiery and moral, always on the defensive against his more risk-taking mentor. Through his misgivings we are presented with the ethical dilemma of genetic manipulation: early on, the Japanese government decides to counter Godzilla with a new artificially-created strain of bacteria that can consume nuclear material. While everyone else leaps at the chance to use this "Anti-Nuclear Energy Bacteria," Kirishima is hesitant, because if Godzilla never shows, or is indeed finally defeated by the strain, Japan will have taken an uncomfortable seat next to the United States as the first to deploy a weapon which will shake the balance of power worldwide, and possibly trigger a new arms race. Sound familiar? Rounding out the main cast are Toru Minegishi as the funny Colonel Gondo, Yoshiko Tanaka as Kirishima's love interest Asuka, and the adorable Megumi Odaka, playing the first appearance of the recurring psychic Miki Saegusa role.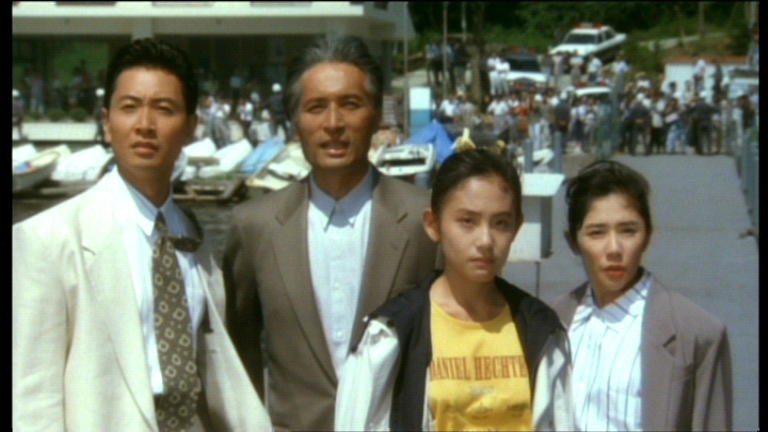 Unlike those previous entries, GVB places more of the onscreen emphasis on action. The first act contains more than one gunfight, usually involving Saradia's sinister secret agent SSS-9 (Manjot Beoi), in an apparent attempt by Ōmori to inject spy thriller elements into the Godzilla formula. Seems he always wanted to direct a Bond film, but this was the closest he ever got. From Godzilla's arrival, the film moves more into a hybrid of the government procedural format of TROG and more traditional kaiju destruction, with two big battles with the Biollante creature. In all honesty, the action itself isn't bad, but isn't anything particularly inspiring as far as blocking and innovation.
Instead, what really works for GVB is the cinematography of Yūdai Katō. Aiming for a more manageable middle ground between a smooth sheen and TROG's high-grain look, GVB keeps the darker, more night-based scenes but adds an organic wetness to the proceedings, further enhancing the new suit worn by Kenpachiro Satsuma, who achieves an even better performance here than previously. The suit is now one of Godzilla's most iconic designs: bulky but muscular, with pronounced dorsal spines and a dragon-like, almost feline head with lifelike, canine eyes. Seriously, in some shots it appears alive.
While Biollante's first form doesn't appear as lifelike, it and the second, more mutated form remain two of the most unique kaiju designs yet, topped only by the '90s Gamera films. Slimy and wrapped in monstrous vines, Biollante is enough to make even the most seasoned tokusatsu veteran cringe in disgust.
As I mentioned at the beginning, this was my second Godzilla film that I bought, after Monster Zero. While I loved the cheesy '60s alien invasion story of the former, this film stirred in me some interesting thought, even with the at-times hilarious international English dub. (Godziller cells!) It's a smart study in a burgeoning field of science where ethics may be the only thing preventing a catastrophe of proportions we still don't fully understand, and for a film like that to keep my attention before age 10 is a feat indeed. While it sadly didn't have the impact it should have had upon the new Heisei series due to its diminished returns, GVB's fortune has been on the rise, with a recent Japanese fan poll selecting it as the best Godzilla film to date. While I believe that honor still befalls the original, I gladly recommend Godzilla vs. Biollante in the top 5 whenever passing my kaiju knowledge along.