Directed by Len Wiseman
Written by Mark Bomback, Story by Mark Bomback and David Marconi, Based on the Article "A Farewell to Arms" by John Carlin, Original Characters Created by Roderick Thorpe
Starring Bruce Willis, Justin Long, Timothy Olyphant, Mary Elizabeth Winstead, Maggie Q, Cliff Curtis, Kevin Smith
12 years after arguably the best installment in the Die Hard series, Twentieth Century Fox gave us the long-awaited fourth film, Live Free or Die Hard. This time, Len Wiseman of the Underworld franchise assumed the mantle of director to a franchise almost 20 years old and on the verge of getting too big for its britches.
John McClane (Bruce Willis) receives a call to bring in a hacker named Matt Farrell (Justin Long), suspected of breaching the FBI computer system. But after John gets to Matt's apartment, a group of men show up and try to kill John and Matt, who barely escape with their lives. As it turns out, a group of terrorists led by Thomas Gabriel (Timothy Olyphant) are systematically shutting down the United States computer infrastructure, intent on bringing the country to its knees from the relative safety of a computer screen. John and Matt are now America's only hope against a deranged former Defense official out to cause absolute chaos.
Live Free's inception makes for one of truly interesting story of Hollywood ingenuity. Originally a spec script by David Marconi called WW3.com, it was based on, of all things, a 1997 Wired Magazine article entitled "A Farewell to Arms," in which John Carlin imagined a three-pronged attack upon the United States' electronic and cyberspace infrastructure by a rogue party intent on bringing down the nation. After 9/11, the project stalled until it was picked up by Mark Bomback and rewritten to become the third Die Hard sequel. The rest, as they inevitably say, is history.
While the story of the screenplay's creation is a much more intriguing tale than the one the film presents, Live Free still lives up to its ultimate purpose, and that is to provide a riotous fun time filled with bullets, explosions, and signature John McClane wisecracks. In fact, this film plays very much like a bigger version of the early nineties action flicks that the original Die Hard birthed. Does that make it slightly anachronistic, given today's propensity towards superpowered warriors? To some, perhaps, but certainly not to me.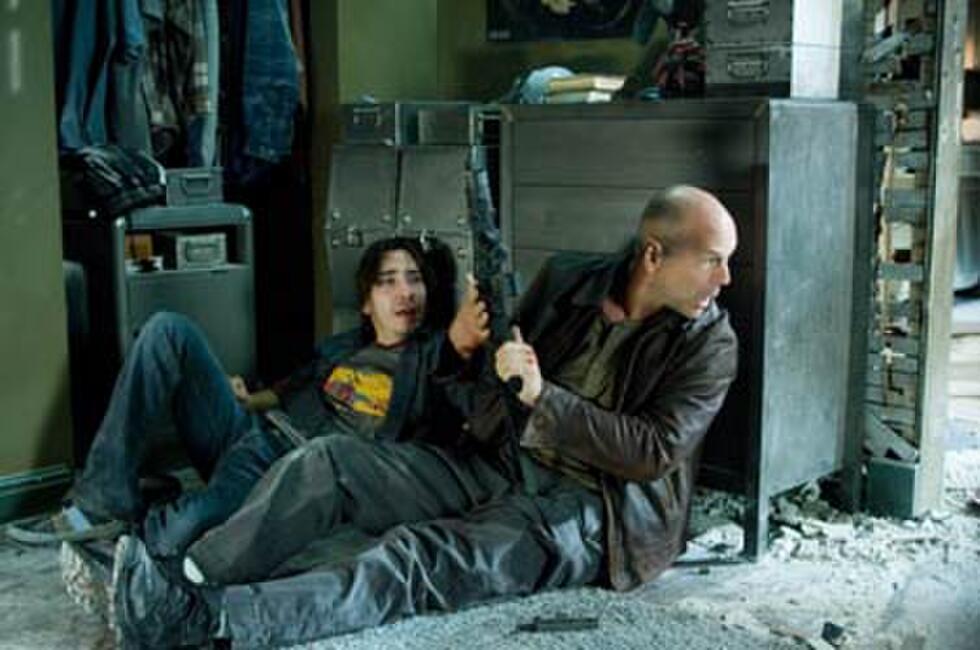 The major story beats seem to steal a lot from the previous installment, Die Hard with a Vengeance, with its focus on buddy-cop elements, personified in the interplay between Willis and Justin Long's nerdy hacker character Matt Farrell. While Long is no Samuel L. Jackson, the two have adequate chemistry to carry the film, with plenty of old-vs-young laughs between them. On the opposite end of the spectrum, Timothy Olyphant and Maggie Q provide the menace, in performances that are quite wooden but fit the bill alright. Besides Willis and Long, I'm sure audiences will find much more enjoyment in the relatively small parts of Mary Elizabeth Winstead as McClane's tough and spunky daughter Lucy, and Warlock, a basement-dwelling master hacker brought to life by geek legend Kevin Smith.
I wish I could say the technical end fared better, considering the cinematic history of the franchise, but Live Free sheds the coherent, analog-style of its predecessors for a look that resembles a generic form of Michael Bay photography. It isn't quite a mess, but it isn't beautiful to look at either. The frenetic and wild camerawork of the action scenes also doesn't do the visual effects any favors; memorable action pieces such as the helicopter destruction and the car flip, while created using in-camera stunt work, appear artificial under the subpar compositing and over-blown color pallette. It's a shame that action filmmaking, for the most part, has come to this. At least the final action scene, in which McClane takes down an F-35 jet with a semi-truck, revels in its CGI glory(?) and makes no pretentions to be realistic or believable.
Another shame is in the film's rating: PG-13. Die Hard has always been a hard R-rated franchise, with blood and f-bombs galore, so imagine my disappointment when Live Free was shot for a wider audience. I proclaimed it as a neutered property and almost dismissed it. I'm glad I didn't, because even without the rougher edge of a higher rating, Live Free still delivers the action goods. However, if you can find it, I recommend tracking down the Collector's Edition DVD, which contains an Unrated Version that more closely approximates an R-rated film. It's a slightly more violent beast, and has plenty of trademark McClane profanity added in. One wouldn't think this would matter much, but you'd be surprised how adding in a little grit makes it feel much more like an actual Die Hard film.
When it comes down to it, Live Free or Die Hard is nowhere near the best film in the franchise, but it manages to deliver on the promise of big booms and manly swearing that so many moviegoers picture when they fondly remember the Die Hard series. And while it may have started the downward spiral, I still place most of the blame on the vastly inferior fifth film, A Good Day to Die Hard. In summary, this 4th of July weekend, go ahead and plop it onto your TV. You won't be incredibly impressed, but you won't be too disappointed either.