Directed by David Cronenberg
Written by Charles Edward Pogue and David Cronenberg, Based on the Short Story by George Langelaan
Starring Jeff Goldblum, Geena Davis, John Getz
Was there any filmmaker quite like the 1980s David Cronenberg? Making a series of films that were at once grotesque and physically horrifying yet deeply intimate and human, Cronenberg brought a strange, gothic heart to the horror and thriller genres that I don't know if I've ever encountered since. Right smack in the middle of all of this is The Fly, the remake of the 1958 Vincent Price hit that blows all comparisons to that work out of the water.
Seth Brundle (Jeff Goldblum), a brilliant but eccentric scientist attempts to woo investigative journalist Veronica Quaife (Geena Davis) by offering her a scoop on his latest research in the field of matter transportation, which against all the expectations of the scientific establishment have proved successful. Up to a point. Brundle thinks he has ironed out the last problem when he successfully transports a living creature, but when he attempts to teleport himself a fly enters one of the transmission booths, and Brundle finds he is a changed man.
I remember first seeing The Fly on late night cable, and being utterly repulsed by its extreme gore. And I still couldn't look away. Sure, part of it was my adolescent curiosity, but even then, there was something about Cronenberg's shocker that was more than cheap blood and goo. Since then, I've become a fan of Cronenberg's work, and have always attributed that to The Fly, his most commercial and successful picture.
Much of the film's success comes from three people: Cronenberg himself, and the two leads: Jeff Goldblum and Geena Davis. Goldblum, a master of performance and subtlety, dives deep into some of the best work of his illustrious career. Goldblum's Brundle is eccentric and insecure; hiding behind a boyish shyness is an altruistic need to create, and create he has, probably the most important invention of the human race: the telepod. Davis is the hot journalist who at first seems mildly amused by the young genius, only to find herself falling for him as they document his successes and failures with teleportation.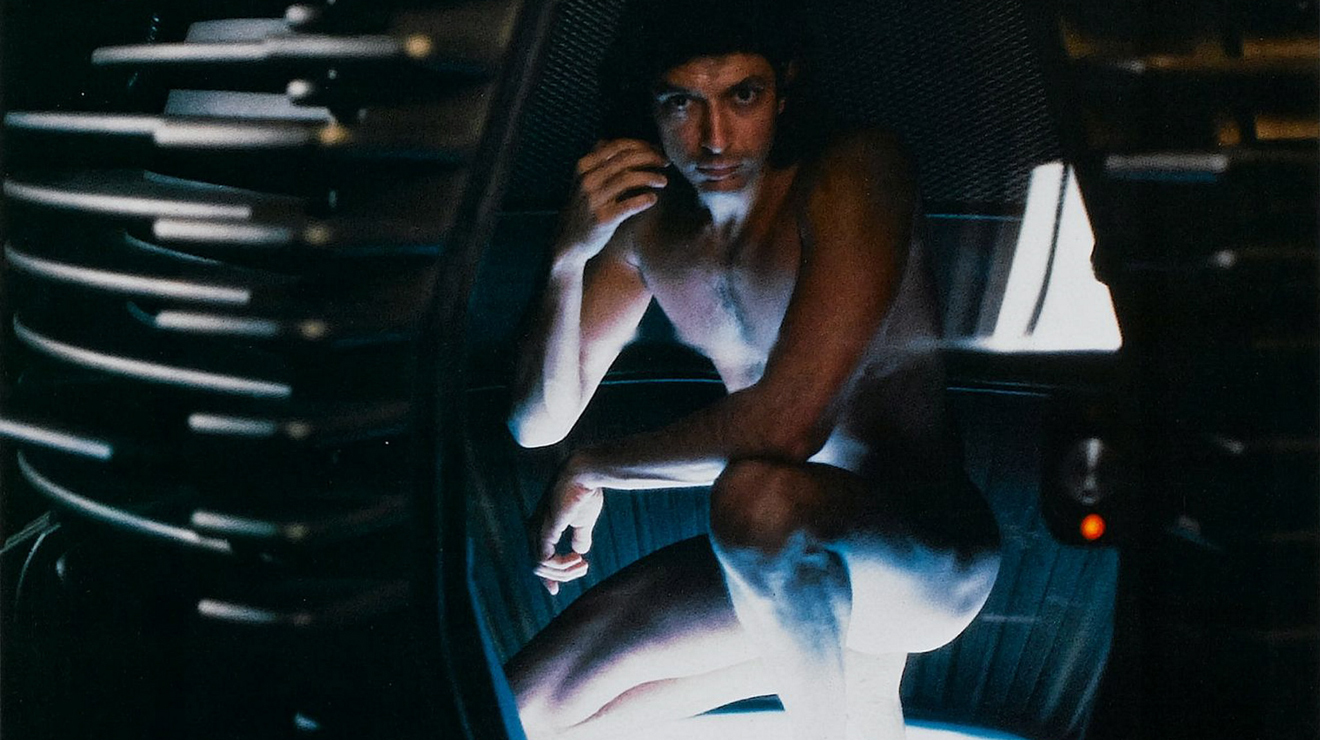 Themselves a couple at the time, their on-screen chemistry as first scientific partners and later as lovers is wholly believable, and genuinely touching. There are times when I want to rate them as one of the ten best movie couples ever. You know what, I am going to rate them as one of the ten best movie couples ever. Which one would they be? I don't know, but it's up there.
And therein lies the genius of Cronenberg's script rewrite. Charles Edward Pogue's original draft (which is included on the excellent Fox blu-ray), is much more flowery and sweeping, playing more like the 1958 original, and places more emphasis on the scientific aspect of the film. Cronenberg aimed for a more concise narrative framed around these two doomed lovers, and in doing so, imbued this film with a bleeding heart that far outshines the scares.
But the scares exist, and while it takes awhile to get to them, they do not disappoint. The first forty minutes or so are consumed with Brundle's attempts to correct a major flaw in the telepod–it can only teleport non-living material. His first teleportation of an animal, a baboon, results in the film's first horrific set-piece as the poor creature is turned inside out upon reintegration. After correcting the issue, Brundle succeeds with another baboon, but soon, his idiosyncratic insecurities rear their ugly head, and he drunkenly enters the machine…not noticing the fly that has made inside with him.
At first, the changes are positive: Brundle can perform feats of physical prowess and seems to be wired all the time. But as the film goes on, his appearance and demeanor changes, frighteningly. His body becomes sensitive to food and external stimuli; strange, insect-like hairs sprout from his back and later his face; even his personality shifts, revealing a new Seth Brundle that is dodgy, arrogant, and all-too-willing to demonstrate his abilities, to the harm of those around him.
At about the hour-mark, the film starts to take on a more familiar sci-fi edge as Seth's body begins to deteriorate, the fly genes manifesting in cancerous legions that tear his visage apart. Major props to Chris Walas and the rest of the makeup department, who create disgustingly logical appliances that allow Goldblum to change before our eyes into a true monster but allowing him enough freedom to create a performance. Their work is honestly second only to Rob Bottin's creations on John Carpenter's The Thing. All through this, Veronica is forced to watch him slowly fall away into a new, terrifying form, showcasing the quiet torment that Geena Davis so effortlessly portrays.
The Fly is a clever bait-and-switch to armchair fans of gory horror flicks. As I did years ago, I'm sure many people tuned in or bought the DVD to see the excellent makeup effects that still make me cringe, and slowly discovered the tender undercurrent of melancholy inherent in the film. In fact, I'd go so far as to say this is one of the most depressing films I've ever seen. It certainly is not for everyone, and I wouldn't begrudge someone from disliking it after a viewing, but for those that can weather the storm, David Cronenberg's The Fly is a unique remake, taking only the barest premise and treating(?) us to a darkly humorous and sad meditation of disease, deformity, the perils of scientific progress and the tragedy of doomed love.