Directed by Steven Soderbergh
Written by Lem Dobbs
Starring Gina Carano, Ewan MacGregor, Michael Fassbender, Channing Tatum, Bill Paxton, Michael Angarano, Antonio Banderas, Michael Douglas
Ah, my first Steven Soderbergh review of the Movie Maestro. Been looking forward to this, wondering off and on which film of his would draw the first honor. And that film is Haywire, the action-packed spy thriller that introduced to the cinematic world that pioneer of women's mixed martial arts, Gina Carano.
Freelance covert operative Mallory Kane (Gina Carano) is hired out by her handler to various global entities to perform jobs which governments can't authorize and heads of state would rather not know about. After a mission to rescue a hostage in Barcelona, Mallory is quickly dispatched on another mission to Dublin. When the operation goes awry and Mallory finds she has been double crossed, she needs to use all of her skills, tricks and abilities to escape an international manhunt, make it back to the United States, protect her family, and exact revenge on those that have betrayed her.
Ask any Soderbergh fan why they love him so much, and invariably, the answer will be his cool, minimalist style. Haywire is an actioner that benefits heavily from his milky smooth touch with camerawork and editing; I wish more action directors were like him. Every set piece is clean and simple, allowing Carano and her exquisite stunt work (she did them all on her own, of course) to take center stage, free of the stupid, unnecessary shaky camerawork that plagues the action genre these days.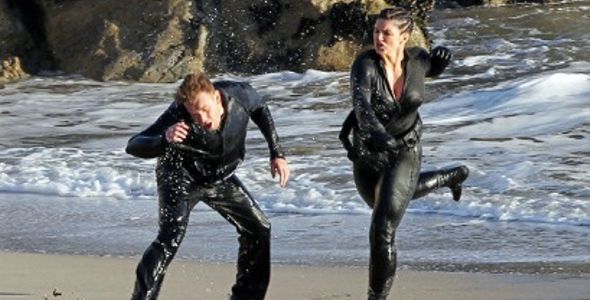 The screenplay by Lem Dobbs matches Soderbergh's visual punch with a deft, swift narrative that bounces between flashbacks telling the bulk of the story and the framing flight of Mallory and innocent bystander Scott (Michael Angarano) in his car. While most audiences seemingly didn't appreciate the story, feeling it to be too hard to follow, but I disagree with the masses yet again. It doesn't spoon-feed its audience, rather, it tells you only what you need to know, letting the plot naturally unravel, like the best of the classic spy thrillers from the days of Hitchcock and early James Bond.
Soderbergh's other trademark, a highly capable cast, is also on prominent display, with regulars Tatum and Douglas supporting MacGregor, Banderas, Fassbender, and Paxton. In reality, however, all of these incredible actors are playing the supporting fiddle to Carano as the main star of the film. This is a bold and uniquely feminist move, swapping the normal action dynamic clean across gender lines. To put it bluntly, it's like watching Jane Bond and her gaggle of Bond Boys. It's actually quite fun, especially when any number of the confident men underestimate Mallory.
I don't know if Mallory herself works as well as the concept, however. Carano is extremely commanding in the combat scenes, but does tend to fall more on the flat side in the more quiet dialogue pieces. It doesn't help that apparently her voice was significantly altered in post, although I do not know to what extent this affected the performance. I also have found references to Laura San Giacomo, another Soderbergh regular, having overdubbed her voice, however I cannot find proof and there are other contradictory statements on this matter. In short, this being Carano's first film, she isn't exactly A-grade material yet.
This doesn't discount Haywire's strengths. It's a tight and fun spy film, smart in execution and filled with enough action to please die-hard enthusiasts. All in all, it's a worthy addition to Soderbergh's catalog, and a great 90-minute stunt film to fill an evening with.